Summer Program Opportunities at Acahela
Program Areas
Two important aspects of Resident Camp are to have fun and provide new challenges and adventures. The scouts will sleep, eat, and participate in special activities as a Pack, but many of our activities are age specific, giving a dynamic program that interests both younger and experienced Cubs and Webelos. If your group is large, you may be asked to split into smaller groups or dens. This will give the scouts more opportunities to enjoy the program and have maximum staff attention. After the 50-minute session, the den will then travel together to their next area. Leaders are asked to be the "chaperones" for the Scouts while the staff delivers the program. If this is done, the scouts will have an excellent week at Camp Acahela. Special needs should be brought to the Program and Camp Directors attention to facilitate the best placement for your Scout.
Below is a brief explanation of Acahela's program areas:
Aquatics
POOL
During aquatic sessions, the scouts will have the opportunity to cool off in our pool and practice swimming techniques with our certified staff. Advancement opportunities exist for all scout levels. And then there is the Polar Bear swim on Tuesday and Thursday mornings.
TUBING
Resident scouts will have the opportunity to tube the Lehigh River on Friday morning.
BOATING
A fleet of eight "open-deck" kayaks are available for Webelos (as per the BSA Guide to Safe Scouting). Three 2-person paddle boats can be used by all scouts (and adults after the scouts get first dibs). OR float one of our den-sized wooden rafts on the fishing pond. The Scouts learn teamwork and balancing skills as they work together to paddle the raft around the pond and avoid the floating obstacles.
Shooting Sports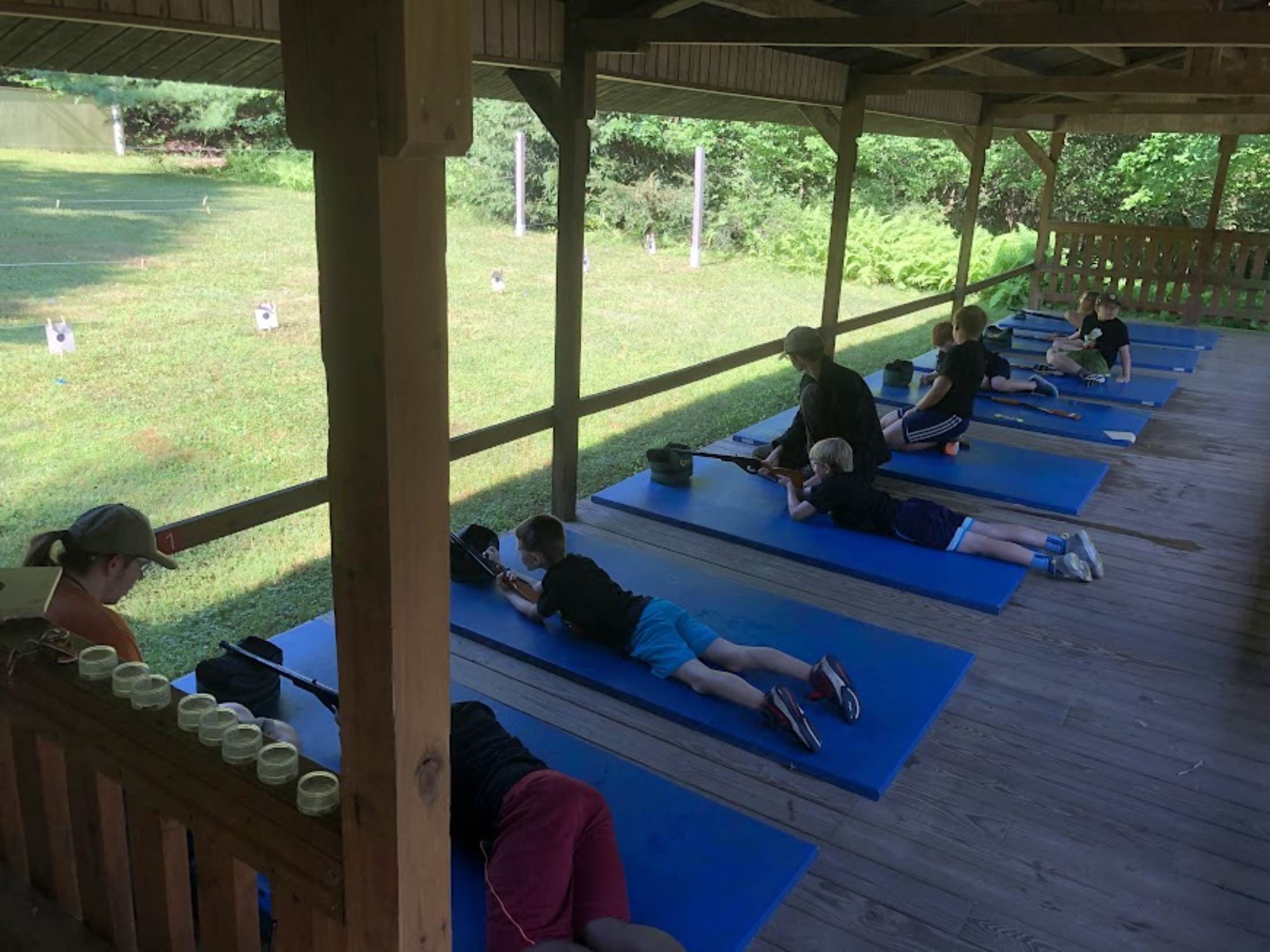 BB Gun Range:
During the BB gun sessions, scouts will learn proper safety techniques and precautions when using a BB gun. After the scouts know the techniques, they will have the opportunity to shoot on our BB Gun Range. Recent grants from the NRA have resulted in our using all high-quality, top of the line Daisy and Avanti BB guns. Daisy Red Riders are the basic gun of choice, but a few Daisy Buck guns will be available for smaller scouts. We also have Avanti guns that we will bring out during the second part of the week for those scouts that have exhibited some proficiency. These guns are the highest quality BB guns available in the United States and are used for the national BB gun competition. Their single shot barrel-loading feature requires scouts that are safety conscious and the assistance of an adult leader or staff member at every shooting station. But these guns are unbelievably accurate! The staff also will be providing some fun shooting games, normally on Wednesday and Thursday.
Air Pellet Rifles:
During the scheduled BB gun sessions on Wednesdays and Thursdays, Webelo/AOL scouts will be able to use high quality Crossman air-pellet rifles, as per the guidelines of the BSA's Guide To Safe Scouting and NCAP requirements, under the supervision of a BSA National Camp School certified Shooting Sports Director.
Archery Range:
During the archery sessions, the scouts will learn proper safety techniques and precautions when using the bow. After the scouts know the techniques, they will have an opportunity to shoot on our Archery Range. Recent grants from the NRA have resulted in our using all high-quality, top of the line Mini-Genesis compound bows that are appropriately sized for this age level. We also have some smaller recurve bows if there are any smaller scouts.
Action Archery Course:
An action archery course has been constructed through the woods behind the archery range. Scouts will be given the opportunity to walk the trail and shoot at the fun targets (such as through the center of a suspended tire, or making the chime set ring) using high-quality rubber tipped flu-flu arrows.
Sports and Recreation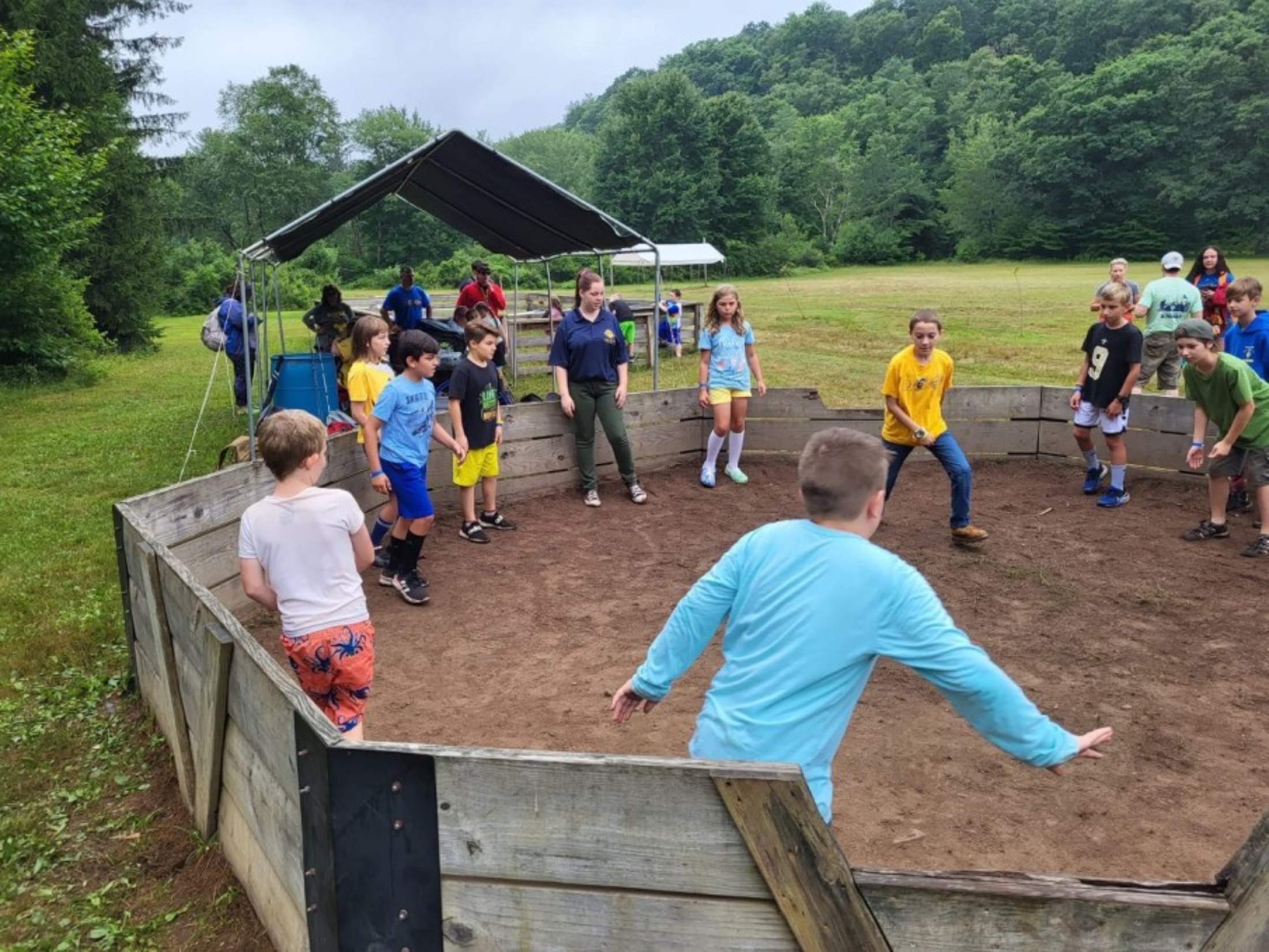 Sports
Plenty of physical fitness activity will be provided in our organized sports programs. This year we will be prepared to provide at least three or four different sports programs. The Den will choose the program they want to participate in each day. Scouts can work towards our Acahela Sportsman Award.
Gaga Ball
Scouts will play this new form of dodge ball in our octagonal gaga ball pit. No teams, no lines – this is a wild wide-open version of the popular dodge ball game. Leaders - Good luck getting them to stop as they love it so much!
Human Foozeball:
We imitate this popular table soccer game on our fenced court (the table) as Scouts are the players holding onto plastic tubes strung on rope guidelines, sliding back and forth along the rope to work as a team to score a goal through the fence opening with the soccer ball.
Disc Golf
A 3-hole disc golf course is laid out in the lower sports field. We use official disc golf "holes" that can be approached from 360 degrees. Each scout will be given 3 discs (a long-range "driver", mid-range "iron" and a "putter").
Obstacle Course
All scouts will have the opportunity to visit our obstacle course which includes the Horizontal Climbing Wall, Bucking Bronco, Monkey Bridge and other activities. The den may also participate in some group development games/activities.
Climbing Wall
Resident campers will climb on our 16 foot tall climbing wall located inside the Dining Hall. Four climbing lanes of varying difficulties provide plenty of opportunities for the resident campers under the leadership of our certified climbing staff.
Fishing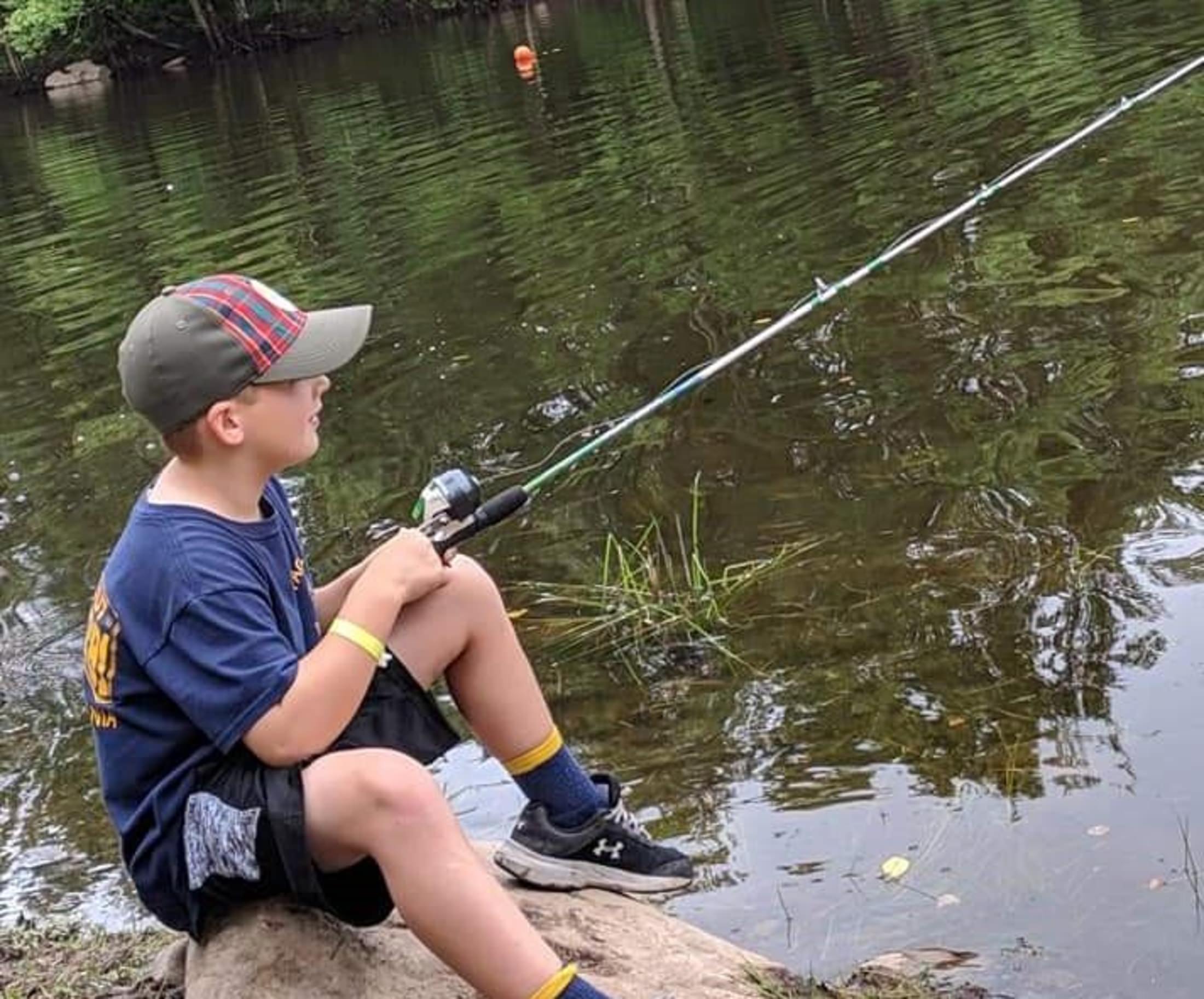 Scouts will experience the excitement of catching fish from the Camp Acahela Fishing Pond. Instruction and guidance will be provided by an experienced staff member. Poles, reels, line, hooks, sinkers and bait are available for each camper, but many like to bring their own. Stocked a few years ago, some of the bluegills are getting to be a nice size. And then there are the yellow perch and bass!
STEM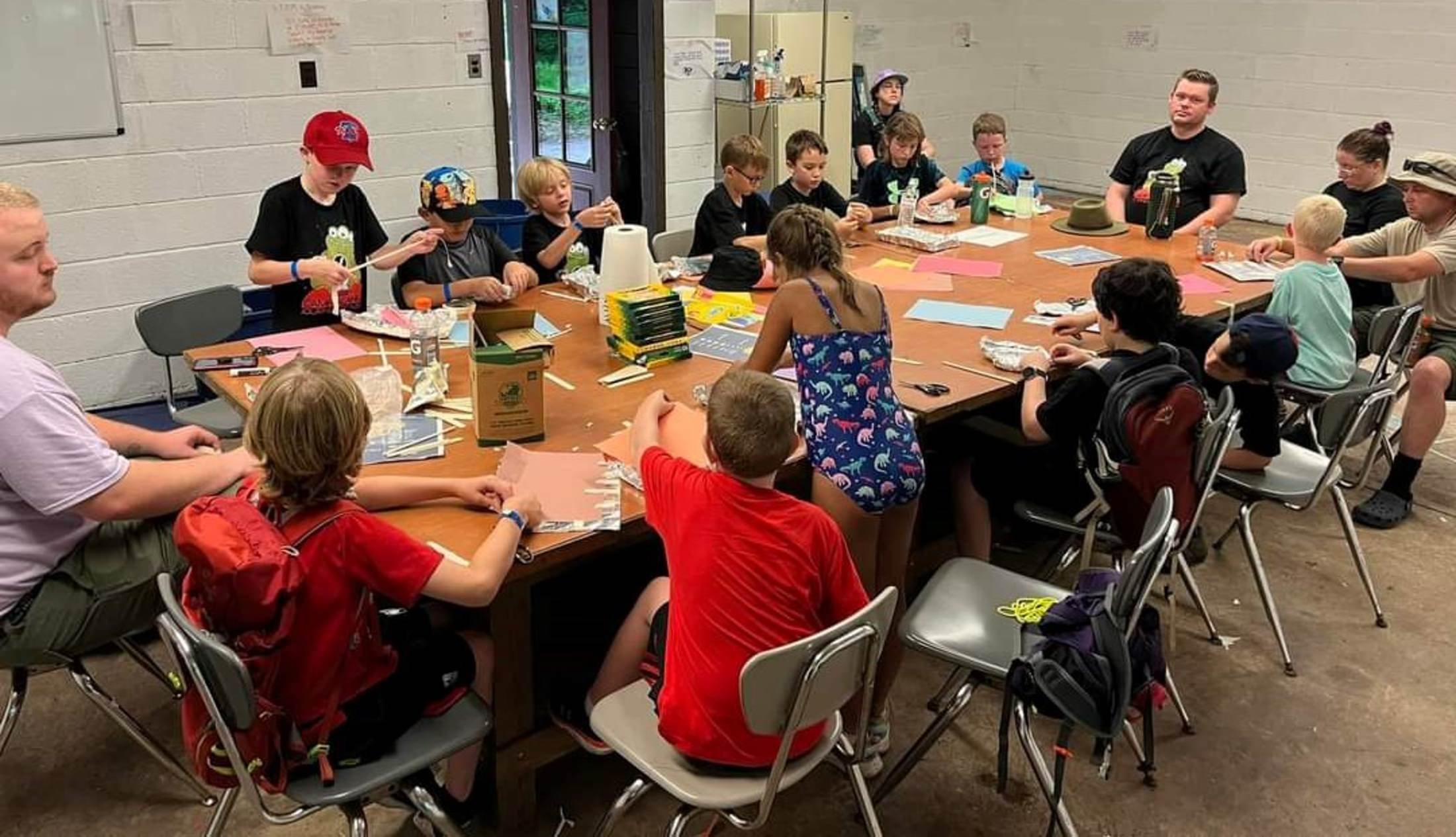 Since the elimination of handicrafts from the new Cub Scout advancement program in 2017 and the emphasis on STEM programming, the regular handicraft session has been replaced with a STEM program. We continue to expand this new STEM program with age-appropriate robotics, programming, structural, electrical and mechanical and logic games/projects.
Nature

Cub Scouts will take part in nature activities and games, provided by our experienced Nature Director. See our displays and aquariums in the Twins Nature Building. Our Acahela Naturalist Award is also very popular. The camp's self-guided nature trail was recently refurbished. Check it out!
Scout Skills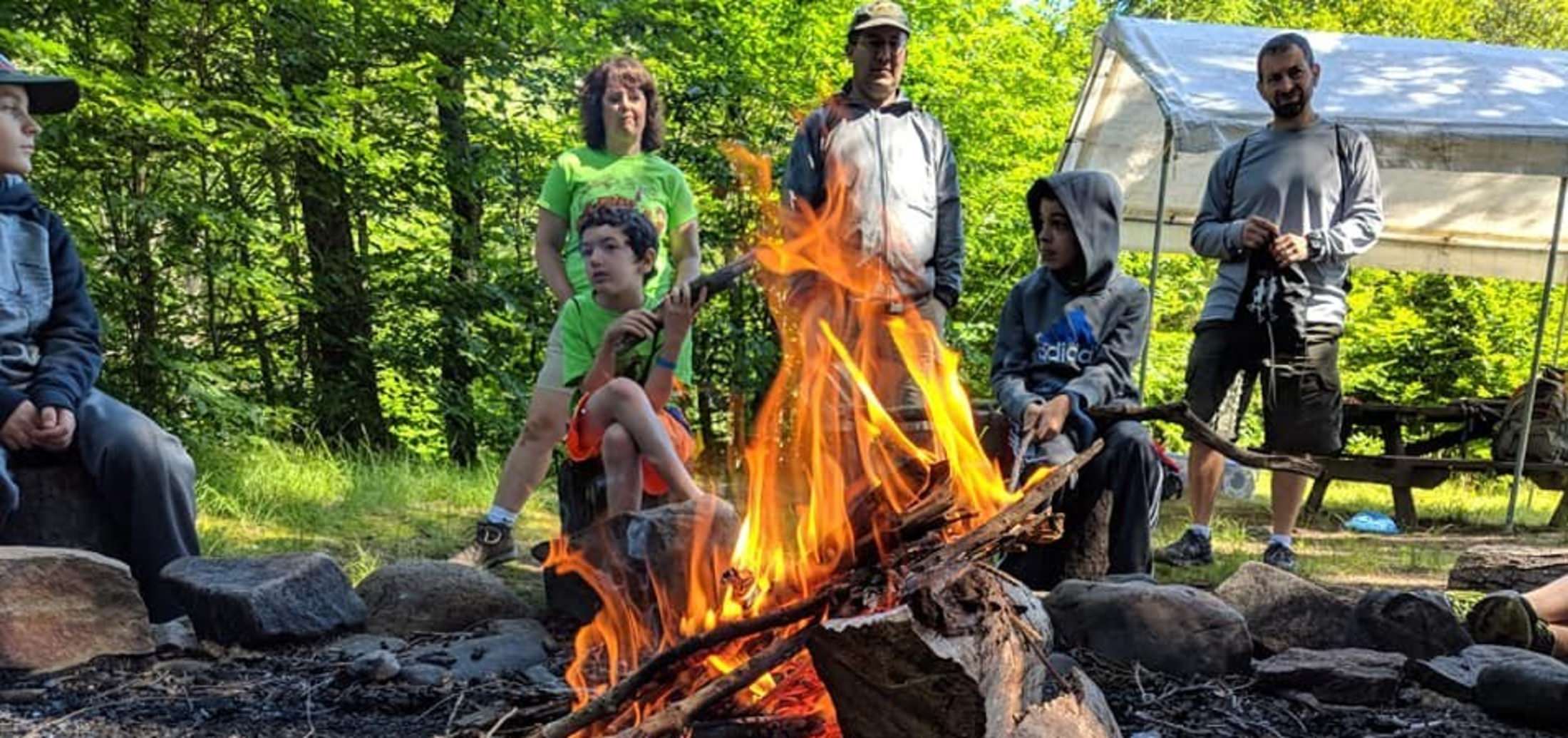 Scouts will learn some basic scout and camping skills. Webelos scouts will learn some basic outdoor skills to help prepare them for moving up to Scouts BSA. This program area is staffed by experienced Eagle Scouts.
Special Programs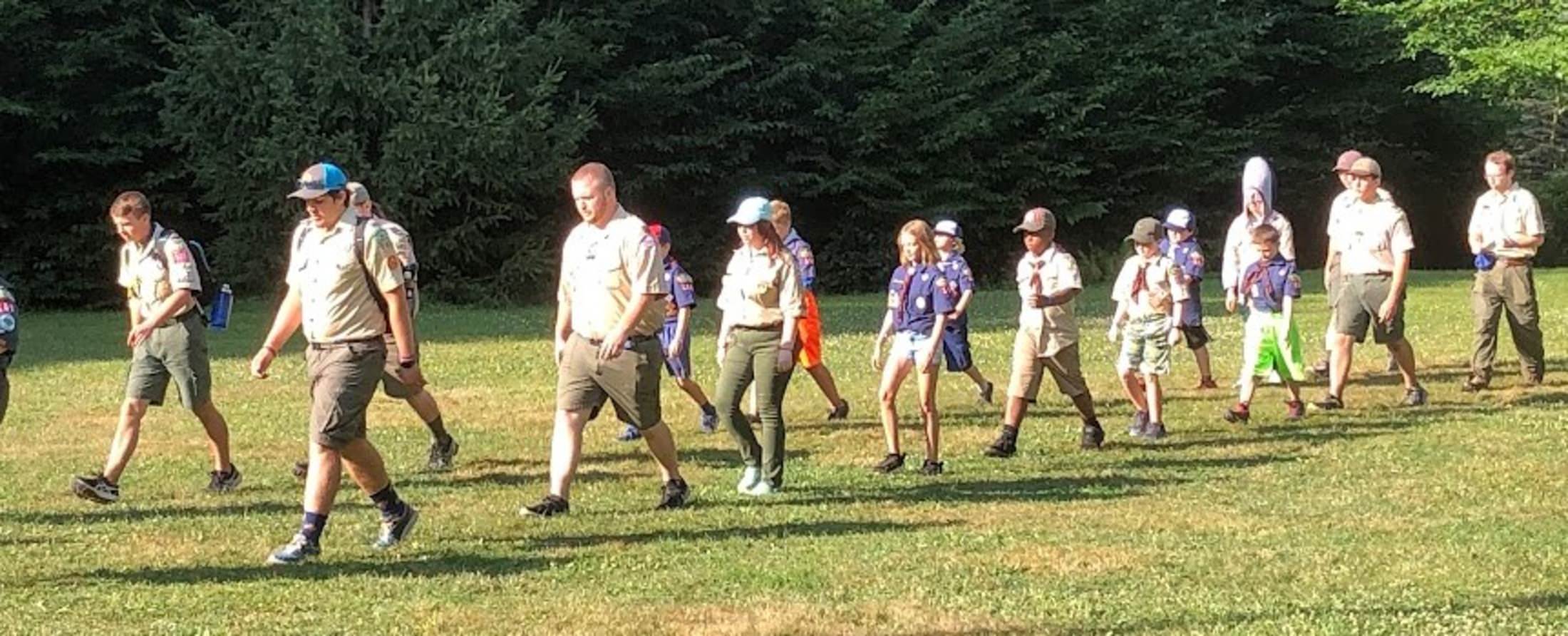 Flag Ceremonies
Flag Ceremonies are for the entire camp twice a day. The flag raising is at 7:50 AM lowering at 5:45 PM. On that first day, staff members act as color guard. Thereafter, the Cub Scouts take over. Instruction on flag raising, lowering, and folding are available during Scout Skills – just ask our staff for this instruction. Den Leaders should have their Den practice these ceremonies. Note: Complete Cub Scout Class A uniform is required for all members of the Den performing the ceremony.
Opening Campfire
Sunday night is the opening campfire. It is a show put together by the staff for the enjoyment of the Cub Scouts and leaders. Sit back and enjoy goofy skits, sing songs, shout cheers, and watch the flames. The camp staff does all the work and preparation. All you need to do is enjoy and have fun. Leaders are to control the use of flashlights during the program and may wish to hold them until dismissal. After the campfire, dismissal of the Cub Scouts is by Pack. The cubs need have no fear of being left behind. Your guide will escort you back if needed.
Daily Special Programs
Evening programs are planned for Monday and Wednesday. These activities are usually theme related or just fun for all. Packs can participate in the activities or may opt to stay in their campsites for their own campfire. If a Pack opts out of the evening program, please let the Program Director know in advance.
Chapel Service
A Scout is Reverent. On Tuesday evening the entire camp participates in a Scouts Own service in the camp chapel. An ice cream social is held in the parade field following the service.
Friday Programming...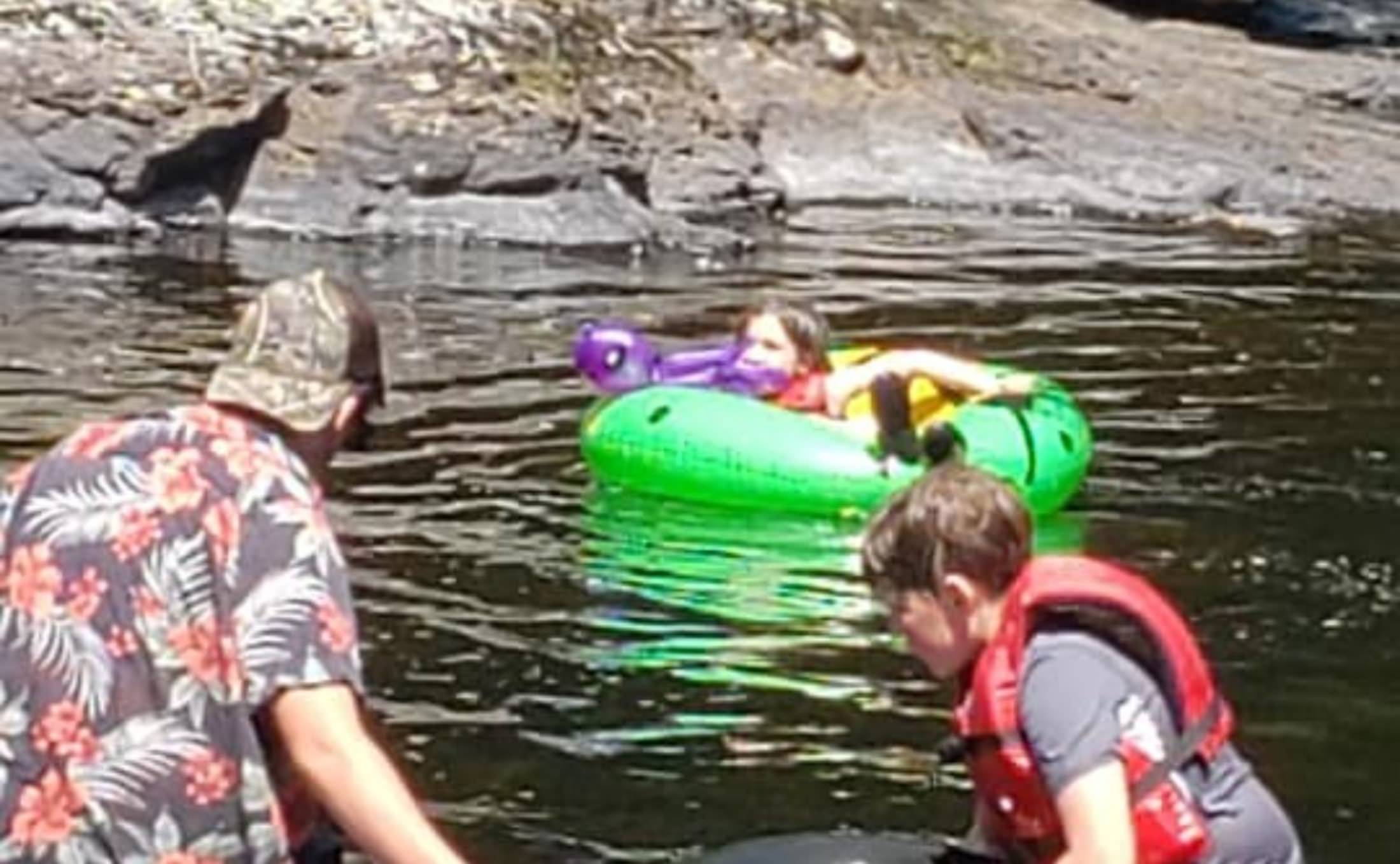 Webelos I: Day Hike
On Friday, first-year Webelos will embark from the Dining Hall immediately after breakfast, on a moning-long hike. They should "Be Prepared" with a day pack and full water bottle. They will be using their newly gained knowledge of the outdoors. They will join up with the second-year Webelos for tubing on the Lehigh River and lunch. They will return to the main camp about 2:00 PM.
Webelos II (AOL Scouts): Out-Post Camping Trip
Webelos II (Arrow of Light Scouts) will pack their backpacks and leave on Thursday evening following dinner. They will hike to their "out-post" site along the Lehigh River where they will set up camp and use other newly acquired Scout skills. Lunch will be provided after some morning tubing on the Lehigh River. They will return to the main camp approximately at 2:00 PM on Friday. Leaders of second-year Webelos will need to provide tents for the Scouts. Some of your Pack's adult leaders may wish to join our staff with the Webelos II Scouts on this outpost adventure. Be sure to let us know during the leaders meetings at camp how many will be attending, so we can plan food supplies accordingly.
Cub Scout Friday Morning Camp-Wide Activity
The Cub Scouts left in camp on Friday morning will have open program. Dens will select the program areas they would like to go to They may choose to tube on the River late in the morning and will join the Webelos/AOLs for lunch along the Lehigh.
Friday Afternoon Campfire
The Friday "closing campfire" has been moved up to 3:00PM so everyone can participate. Packs will provide the songs, skits and cheers. Scouts and packs will be recognized for special achievements, earned during the week.
Daily Open Programming
General
After listening to comments from our Pack leaders, we have created an "Open Programming" period in the schedule in the late afternoon. The staff will present the day's options for the Open Program period each day at Morning Colors. The Pack leadership will select their choice for each Den and sign-up with the Camp Program Director by lunch. We anticipate offering some type of special Open Programming in each program area, with many relating to this year's theme, and/or offering an extra period for the Den to return to one of their favorite program areas such as the fishing pond or climbing wall.
Aquatics and BB Gun Areas
One of the main reasons for offering the Open Program period is to ensure that each Den has an opportunity to participate in the two most popular areas in camp, the Aquatics Area and the BB Gun Range, each program day in camp. Both of these areas have limited space capacity so the following system will be employed:
If the Den is scheduled for one of these two areas during Sessions 1 through 5, they may NOT participate in the open programming in that area that day (unless capacity exists as determined by the Program Director during the after-lunch leader meeting).

If the Den is not scheduled for one of these two areas during Sessions 1 through 5, they MAY participate in the open programming in that area that day OR they may choose to go to one of the other areas available that day.
As an example: Den 1 is scheduled for the pool on Monday and Wednesday. Den 1 MAY go to the pool during open programming on Tuesday and Thursday, if they choose, but may NOT on Monday and Wednesday.
Note this word of caution – if everyone decides to go to the Aquatics Area and BB Gun Range every day, half of the scouts in camp will be at each of these areas, creating a long waiting line for the range and possibly the need to assign short swim periods at the pool. We will make every effort to reassign staff to accommodate the demand, but capacity is limited at both of these facilities by BSA National Camp Policies.